Stable and smooth handling of your pallets and panels
Discover the chain conveyor
Transport of pallets and flat products with a chain conveyor
Chain conveyors allow you to move your products automatically through your warehouses and factories. It is particularly useful for transporting pallets, which can be placed in the direction of the skis or perpendicular to the conveyor chains.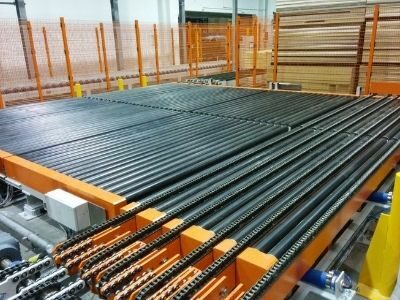 At Schermesser Handling Systems, we manufacture chain conveyors equipped with two or three chains depending on your needs and the products you transport. We can also add as many chains to the conveyors as required for your handling needs.
The chain conveyor, a robust conveying solution
Chain conveyors are developed in a straight path. They are used to move heavy loads such as pallets that are less easy to move on rollers. Thus, we produce chain conveyors that can be manufactured with different types of metals (steel, aluminum, stainless steel, etc.) according to your needs and the products you transport.
Chain conveyors are very robust handling systems thanks to their welded frames. The chain conveyors we manufacture for our customers are therefore very resistant handling systems.
Stable transport thanks to the chain conveyor
We also manufacture chain conveyors for other types of products than palletized goods. We specialize in the manufacture of handling systems for panels. The chain conveyors we produce can also transport high stacks of panels and very heavy loads while ensuring a very high stability of the products thanks to the conveyor chains. The stability of the products is thus more assured than with a roller conveyor for example. This prevents breakage and damage to the products.
Other chain conveyor applications
The chain conveyor is also often used for transferring and changing the path of the packages at 90 degrees. We therefore also manufacture transfer tables with two types of conveyors placed and embedded perpendicularly: chain conveyors and roller conveyors. This allows you to change the trajectory of your pallets or panels in your factory or warehouse.