Transport your panels and pallets
Our conveyors are planned to carry your products from one line to another, whether on automated or manual lines. You want to move fragile and delicate panels, pallets or very heavy and robust flat products, our Schermesser's conveyors range will meet your requirements !
Building a conveyor from scratch can take time. A machine that brings a product from point A to point B seems to require little know-how or expertise, nevertheless at the slightest mistake, at the slightest defect, the entire production line in your factory comes to a standstill. Subcontracting the manufacturing of your conveyors to an expert in industrial handling solutions, is the assurance of obtaining a qualitative and reliable conveyor solution.
We design on site and build your conveyor in our workshops according to your exact needs. As a renowned expert in the construction of conveyors for all types of flat product industries, we deliver tailor-made solutions for your field. Our conveyors can be developed to match precisely your production line's machinery at any steps and you'll gain in efficiency and productivity.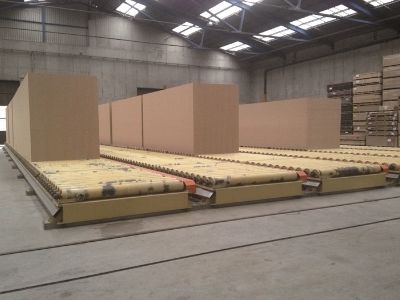 Please, note that we specialize in conveying flat products and panels. Our conveyors are designed for several markets. Whether you are a builder in the field of wood, insulation, metal, plasterboard, or any other sector of the flat product, we convey it to your factories!
From study to commissioning
All the conveyors we conceive are designed in Germany or France according to their field of application. Our design offices allow us to engineer the best solution for your logistics and transportation needs for your factory or warehouse.
Step 1: We meet you and draw up a set of specifications together. You are in contact with experts in order to define the best conveying solution for your factory according to the products' transportation.
Step 2: Our design office takes your specifications and the various important data such as the load moved, the type of product, its dimensions, the layout plan, etc…
The CAD software of the Autodesk suite allows us to conceptualize your conveyor project. We realize from the Inventor software, a 3D simulation of your workshops and the modeled conveyor to deliver you a solution that can be integrated into your production line. Once the design review has been carried out, our engineering and design department will draw up the conveyor plan.
Step 3: Your conveyors are manufactured and assembled in our workshops in France. Tests are carried out in order to deliver you a reliable product. 
Your needs in automation and electricity are defined internally on your conveyors. We are able to carry out the programming, wiring, and electrical installations on your conveyor lines.
Quality, reliable and good-looking production machines will directly impact your company's image. Choosing to design and manufacture your conveyors in France allows you to support the quality of your production in your field of activity.
Step 4: We send and install your conveyors on your production lines.
Step 5: We make a long-term commitment to working with our customers. Therefore, you can count on us in case of breakdowns, maintenance or spare parts. Our team is here for any further support once your conveyors are installed and put into operation.
Logistics flows and the design of conveyors adapted to your sector
Our conveyor technologies ensure the logistic flow of products from one area to another in your factory. They allow the product to pass through the different stages of manufacturing or packaging. A conveyor will be characterized by a continuous movement of the products, over more or less important distances, including potentially complex trajectories through the factory.
Any conveyor design requires a good knowledge of the behavior and characteristics of the product to be conveyed. For example, during the acceleration, deceleration, elevation, passage through a curve, or any other phase of product transport, its behavior is studied, and our conveyors are adapted to it. The conveyors can thus be parameterized by considering the various important characteristics.
Conveying represents many possibilities to manage simple as well as complex flows. At Schermesser, we consider conveyors according to your manufacturing processes and plant organization. We are aware that factories are less and less fixed environments and that production flexibility is becoming an important issue. Industrialists in many sectors of activity today need solutions that are quick to implement but also adapted to their needs. To add a line or even reconfigure an existing line, our conveyors are designed to meet your factory's need for adaptability.
We service and maintain the conveyors
Depending on their field of application, our conveyors may require more or less maintenance during their life cycle. When the equipment is operational, it is essential that it continues to operate under the best conditions so that your production line remains active. This is why we intervene when necessary on the conveyors we deliver and perform their maintenance and servicing.
Why choose Schermesser for your conveyor systems?
Our conveyors have many advantages:
Robust and resistant to harsh environments
Speed: up to 150 meters per minute
Modular in Length, Width and Height, depending on the loads.
Adaptable to different fields of application
Thanks to our various conveyor systems, it is possible to set up an infinite number of circuits, from the simplest to the most complex!
The number of chains integrated into the conveyor will depend on the transported load, its rigidity or the robustness of the frame. 
This type of conveyor is most commonly used for heavy loads, stacks on rafters or pallets.
Low speed: approx. 15 m/min
There are 2 types of roller conveyors according to their field of application, belt-driven and chain-driven.
Our belt-driven roller conveyors
The speed of this type of conveyor is fast, up to 140 m/min and supports a maximum load of about 500kg. It works with a belt-driven.
Like all our conveyors they can be integrated into your production lines. Example of an application of a roller conveyor panel by panel on a sanding line:
Our chain-driven roller conveyors
Chain-driven roller conveyors are suitable for heavy loads and can transport all types of flat products on your production lines.
Examples of our chain driven roller conveyors for different sectors and applications:
Example of application of an infeed/outfeed roller conveyor on a leveling machine for the sheet metal industry:
These roller conveyors are suitable for very heavy loads. They are driven by a chain drive with sprockets. The speed of these conveyors is slower, up to 15m/min. They are adapted in order to support efforts in certain fields, up to 60 tons.
This is one of our specialized heavy-duty roller conveyors, also called High Stack Storage Systems: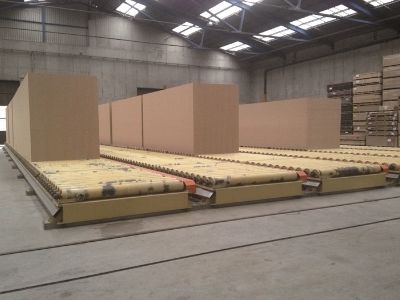 This type of roller conveyor allows you to move very heavy loads, up to 32 tons and high stacks in your workshops. The advantage of this conveyor is that it transports your stacks slowly without the risk of falling. (See also High Stack Storage Systems).
Mixed, roller and chain conveyors | Corner stations | Angular transfer station
Our mixed conveyors allow to change the direction of the product at 90° degrees. Composed of both rollers and chains, these angle stations can support up to approximately 30 tons. The product is transported slowly, about 15m/min.
Example of application of one of our corner stations: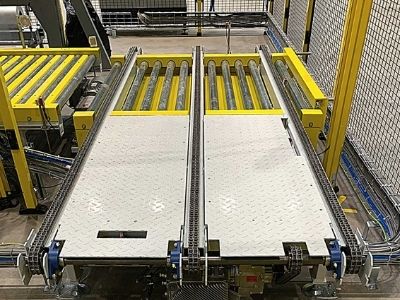 Belt conveyors are efficient conveying solutions for small loads and can be easily integrated into your logistics or production lines. We design belt conveyors, belt conveyors and modular belt conveyors.
Our belt conveyors
This type of conveyor can carry lighter loads. Thus, the product can be transported quickly, up to 150m/min. The advantage of these conveyors is the low need for maintenance.
Example of application of one of our belt conveyors:
Our modular belt conveyors
Modular belt conveyors are ideal for loads that require slow transport.
Application example of one of our modular belt conveyors:
The rotating stations can be adapted from all types of conveyors. They can be brought on rails and can rotate up to 360° degrees.
Example of application of one of our rotating stations :
Your tailor-made conveyors! Whether it's a chain, roller, modular belt, corner station, or rotating station, we design your conveyors according to your needs and requirements.
Length | Width | Height | Number of chains | Longitudinal or transverse | Roller thickness | Type of chain or belt | Pitch between chains | Number of motors and their power | Tilt system | Trolley troughs | Sensors | Stop | Lift table | Chassis