Cooling system for wood panels
Discover our panel cooling system
Cooling of particle boards
In the manufacturing process of particleboard, the cooling step is essential. Indeed, particleboard is produced from wood chips and a thermosetting product to bind the chips to create a panel. The panel cooling step is necessary at the end of the gluing process. In the particleboard production process, the wood chips are mixed and blended with a glue mixture to create the material for the panels. Once the mixture is in the form of panels, the particleboard must be dried and cooled.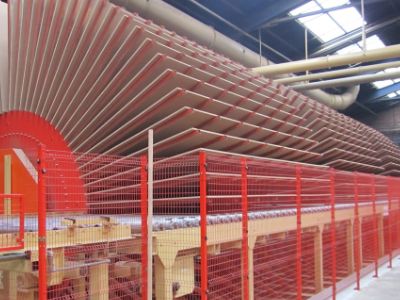 This type of cooling carousel can cool several panels at the same time. Furthermore, this cooling machine is integrated directly into the production line. A conveyor system brings the panels from one station to another in a fully automated way. This allows for efficient production without human intervention on the line. The conveyor system brings the wood panels to the chiller, which catches the panel and rotates it 180 degrees as you can see in the following pictures.
Hedgehog solution for high speed production
On this model, the hedgehog type chiller can cool up to 40 panels at the same time. By integrating a hedgehog/carousel cooling solution, you gain in productivity and efficiency on your particleboard production.