Strapping and banding machine
Automatic strapping deposit on panel stacks
Discover the strapping system
Our automatic strapping machines : deposit of straps
The strapping machines we produce are custom-made according to your needs, depending on the dimensional aspects of the products you transport, the nature of the product, the desired strapping rate, etc. At Schermesser, we supply strapping machines to be integrated into an existing handling line or as part of a project to build a complete handling line for your flat products. This means that the production time of the line is not reduced thanks to a high-speed strapping solution.
Good stability of the product stack
The strapping step on the handling line allows to fix the products in order to avoid slipping and also allows to compact the panels. The strapping step allows to maintain the panels and that they do not separate from the stack during the different handling steps of the stack of products.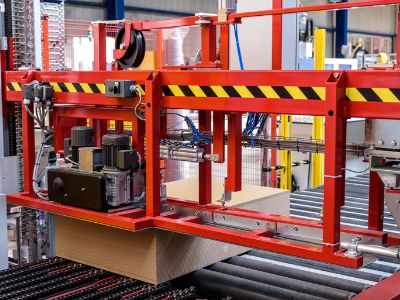 This automatic packaging solution reduces the time required for packaging compared to a manual strapping solution. On your production and handling line, we integrate a conveyor (belt, chain or roller depending on the product) that automatically brings the stack of products into the strapping machine. It is adaptable to your production environment and to the weight and format of the products you handle. Moreover, the strapping is done in the transversal or longitudinal direction of the stack according to your needs.  
We can provide strip dispensing solutions to suit your application. There are different ranges of plastic and metal strapping, which gives us the confidence to provide you with the best combination of strapping, machine and product. We can also integrate the strapping solution with automatic rafter, cleat or angle solutions to protect the panel stack.